Ideal for a week of activity, sightseeing and touring, or a short break stay to sample the delights that Lot-et-garonne has to offer, our yurt will allow you to discover the architectural and historic heritage of this part of South West of France … You will be very quickly charmed by the beauty and diversity of the heritage of our country, its history, its people…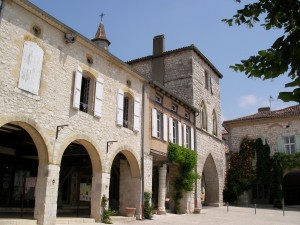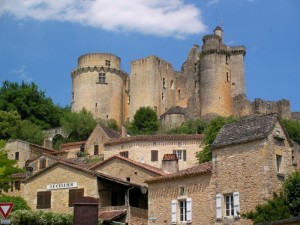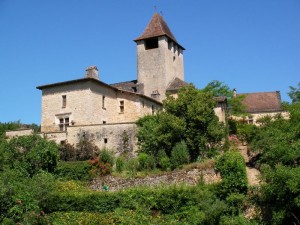 'BASTIDES ' (fortified towns) :
Villeréal and its 14th century market hall, its lovely medieval houses
Monflanquin, situated on top of a hill with lovely views on the surrounding countryside, and its fortified church, its interactive museum
Castillonnès and its remains of battlements and doors, its back streets, its central cloistered square
Villeneuve-sur-Lot, the biggest royal walled town of Lot-et-Garonne, and its mixture of stone and the red bricks of Toulouse, its old bridge, the 'Pont Vieux' (a 13th century bridge), its two old gateways - the Porte de Paris and the Porte de Pujols, remains of fortified wall
Tournon d'Agenais, a lovely hill top "bastide" on the route of Santiago de Compostella, and its belfry tower, its garden with panoramic views
Beauville, standing on a spur overlooking the Seoune valley, and its arcaded main square, its churches, its castle built in the 13th century
Montpezat-de-Quercy, built on the outer foothills of Quercy, bastide of English origin, and its extraordinary panoramic view from the windmill
Puymirol, perched high on a rocky outcrop, the oldest 'bastide' of Lot-et-Garonne, founded in 1246, and its fortified walls, surrounded by its covered way of 1400 meters for walking
Monpazier, the most distinctive and amazing fortified town of Périgord, with its lovely main square, its ramparts with three fortified doors
Domme, near Sarlat, with its old ramparts including two big guard towers, converted into prisons in 1307 for the Knights Templars
VILLAGES, MEDIVAL CITIES, CHURCHES AND CHAPELS :
The church of Valette, at only few meters from our yurt, in the middle of the countryside, fortified church built in 12th century and its bell tower, its great door rebuilt in 15th century
Casseneuil, lovely medieval village with narrow streets and houses overhanging the River Lede
Issigeac, medieval village of Dordogne, and its Bishops palace built in the 17th century, its narrow winding streets lined with fascinating ancient buildings, its beautiful church of the 16th century
Pujols, listed as one of the most beautiful village of France, and its beautiful streets full of flowers, its far-reaching views over Villeneuve-sur-Lot and the Valley of the Lot
Penne d'Agenais, on its spur with its fortified doors, little streets with steps, timber framed houses
Saint-Avit, small village surrounded by forests and beautiful houses built in yellow stone, its Museum Bernard Palissy and its contemporary ceramics collection
Bergerac, the capital of Purple Perigord, and its old port, its beautiful half-timbered houses
Belvès, the "town of seven bell towers" in Dordogne, and its impressive covered market of the 15th century, its medieval and Renaissance houses and small gardens
Agen, capital of plum, surrounded by the majestic Garonne, and its Church of Our Lady of the Jacobins, its Fine Arts Museum housed in four of the town's Renaissance hotels
La Roque-Gageac, walled city located on the north bank of the Dordogne, with its breath-taking views and tropical garden, its fifteenth-century church carved into the rock, its troglodyte dwellings
Cadouin, pretty little village on the hillside, cited as one of the 'sites du Patrimoine mondial', with its impressive Cistercian abbey and its Romanesque church
Sarlat, medieval city recognized "City of Art and History" and its maze of warm and blond stoned walls, cobbled streets, its cathedral with the attractive Cour des Fontaines and Cour des Chanoines behind.
CASTLES :
Gavaudun castle, built in the 12th/13th century, with its remarkable dungeon perilously perched on a rock, nestled between the valleys of the Lot and the Dordogne rivers
Castle of Biron, one of the most impressive castles of Perigord, complete with towers, a donjon, a chapel, Renaissance appartments and vaulted kitchens
Bonaguil castle, one of the most beautiful fortresses in France, and its thirteen towers and turrets, located on a high rocky outcrop between the river Thèze and the Lémance river
Castle Duras, a classified historic monument offering a magnificent view over the valley of Dropt from the top of its dungeon, and its 35 different restored rooms to pass through, seeing magnificent ceilings, archways,…
Monbazillac castle, surrounded by the vineyards of the famous vintage, with its four towers with battlements
Castle Beynac, perched on top of a limestone cliff, and one of the best preserved and best-known in the Black Perigord
Castelnaud Castle, the most visited castle in South West France, and its museum of war and the middle ages, its magnificent views over the wide stretch of the Dordogne Valley
CAVES :
Not far from our yurt, visit the underground caves of Fontirou and Lastournelle accompanied by a guide and discover an incomparable and magic spectacle of stalactites, stalagmites and limestone tapestries.
If you choose to admire the famous caves of Lascaux II, go off for the day and you'll be impressed by the wealth of mural paleolithic paintings of animals.
La Roque Saint-Christophe, at 8 km in the north of Les Eyzies (village built rising vertically 80m from the Vezère valley), is one of the largest cave sites in Europe (half a mile long) with its five galleries dug out from the rock. Definitely worth a visit !
Do not miss the amazing cave of Roufignac whose overwhelming depictions are animals : reindeer, bison, rhinos, mammoths, aurochs, bears. You will take a little train that carries you through the cave and then allow you to admire paintings dating mostly from 13,000 years ago.