LAKE OF LOUGRATTE
Further down the village, a body of water of 17 acres is a very enjoyable destination in the heart of a green and restful landscape, with its fine sand beach and its quiet picnic area in the shade of pines. Lifeguards are on duty during the summer season from June 15th till August 31st from 2:30 pm till 7:00 pm and you can rent pedal boats or canoes. Children enjoy slides, playgrounds ; for kids and adults : a diving platform, a beach volleyball court, a pétanque strip, a table tennis table, fishing...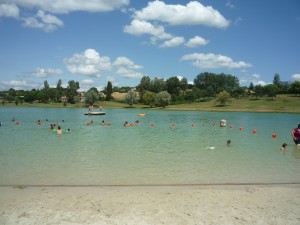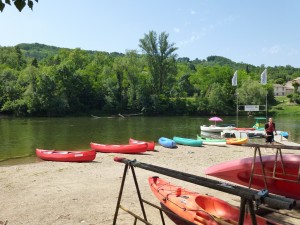 NAUTICAL BASE OF CASTELMORON-SUR-LOT
Rentals of kayaks, canoes, stand-up paddleboards, and more in Castelmoron-sur-Lot – Nautilius BKS
Anibal FERREIRA suggests you to spend time on the water and to explore the scenic Lot River, by canoes, motor boats or hovercrafts. You will receive a warm, friendly and professional welcome !
BARGE RIDES (by traditional flat-bottomed 'gabarre')
In Fumel, go and explore the Valley of the Lot and enjoy a beautiful cruise aboard a 'gabarre' (historic barge) through wooded and green landscapes of Lémance river … From June till September, discover the pleasures of navigating the river on a barge, further down terraces of the Castle of Fumel : a 15 km cruise during which the captain will tell you about the history of navigation and the wealth of the heritage the area (castles, mills, locks …)
In La Roque Gageac, which lies exactly halfway between the source of the River Dordogne and the Gironde Estuary, comfortably settled in aboard a replica of a garbare, an 18th-century barge, for nearly one hour, let yourself drift down the "hope river" once used to transport wood, wine and spices. Your guide will tell you the history of the bargemen and the legendary castles, which are among the most beautiful in Périgord.
In Bergerac, treat yourself to a barge cruise through time aboard a traditional 'gabare', setting out from the legendary barge port of Bergerac. You will be told the history of Cyrano de Bergerac's town, the hectic lives of the lightermen and our nature reserve where, depending on the season, you can photograph herons, kites, kingfishers, cormorants, coypus and turtles. Boarding and ticket office: quai Salvette, Bergerac. Barges available for hire for all occasions. Departure from Creysse (from 15 July to 28 August) every Tuesday and Thursday at 10:30 am: 1½ hour cruises. Open at Easter and on All Saints Day.